Meet our new President!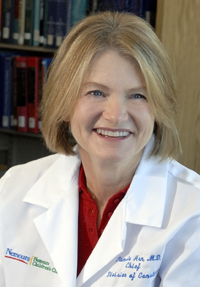 Dr. Pamela H. Arn received her Medical Degree from the University of Virginia. She was a Resident in Pediatrics at Children's Hospital of Pittsburgh and did her Fellowship in Medical Genetics at Johns Hopkins University. She is certified with the American Board of Pediatrics, the American College of Medical Genetics, is a Founding Fellow of the American College of Medical Genetics and maintains active memberships in numerous other Associations and Societies. She has been with Nemours since 1989.
Dr. Arn has received many grants, has Chaired Peer Review and Advisory Committees and published peer reviewed articles. She continues to present at national as well as local meetings and guest lectures frequently. She has received national "Best Doctors in America" Awards since 1991.
Dr. Arn currently serves as Operational Vice President-Education for Nemours; was the former Chief of the Division of Genetics at the Nemours Children's Clinic in Jacksonville; and is Assistant Professor of Pediatrics for the Mayo Graduate School of Medicine.